Robot Palletizing
With our palletizing robot Profirob A4 we have succeeded in setting standards.
The Profirob A4 is equipped with four servo axes. The robot is equipped with a counterweight, whereby high payloads of up to 800 kg can be palletized, depalletized or commissioned in an energy-saving way. The use of an industrial robot brings our customers additional flexibility and cost savings. All palletizing requirements can be realized in full layers in the high performance range. In order picking, the Profirob A4 impresses with its flexibility. With our higher-level S7 robot controller, we have developed software that makes effective multi-station processing easy. Another important advantage of the Profirob A4 is its small footprint and precise operation. Due to the low acquisition costs, more productivity and cost savings can be achieved even with small handling tasks.
We specialise in handling applications in the beverage, food and non-food sectors: Packing, palletising, repacking, order picking or call-off controls are possible in the smallest of spaces.
We meet even the most difficult requirements!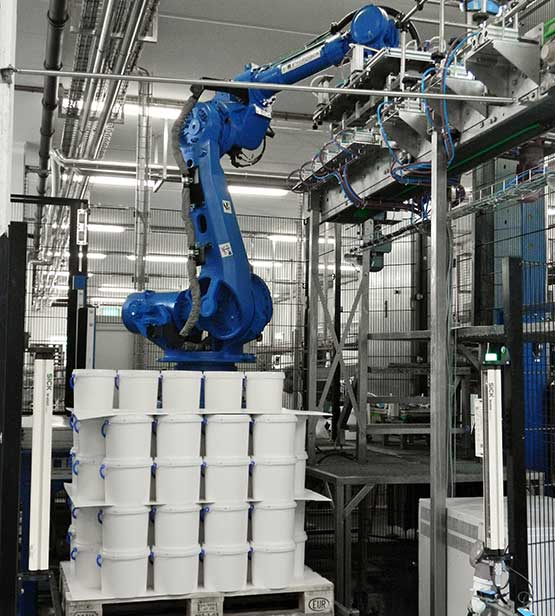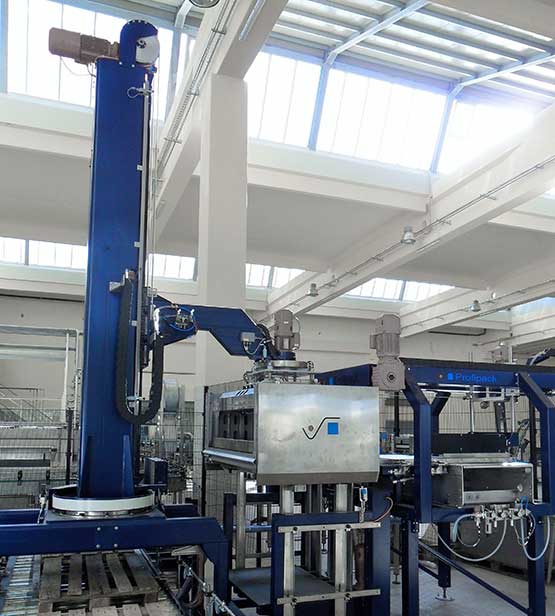 Swivel columns Palletizer
With its space-saving, solid construction, the Profipal 2800 swivel column palletizer is of simple design and features the latest drive technology.
With its unique flexibility, it can reach up to four pallet locations.
The Profipal 2800 is available as:
Pallet unloader with hook or clamping head
Pallet loader with hook or clamping head
Universal loader with shutter head
Bag palletizer
Order picking - Unloader
Picking - Loader
And is therefore used for:
Palletising and depalletising crates
Palletizing of cardboard, soft packages, buckets
Palletizing of bags
Depalletizing of pallets for provision in the picking department
Palletizing in picking systems
The processing of pallets and layer pads is possible with the basic machine, in the course of palletizing and with simple, standardized accessory assemblies.
Universal Palletizer
Our universal pallet loader has the unique feature that it can palletize the layer flush on the outer edge of the pallet like a shutter head. This enables optimum volume utilisation and the best possible transport stability. This function is only possible with other manufacturers with an upper infeed.
This makes this universal loader extremely flexible and with its space-saving arrangement and low-maintenance drive technology particularly interesting for our customers.
Technical details:
| | |
| --- | --- |
| Performance | up to 400 layers / h |
| possible products | cans / bottles / jars / buckets / canisters |
| Palets | from 1200x800 mm to 1200x1200 mm |
| Pallet conveying direkction | freely selectable |
| Intermediate layer processing | Intermediate layers and slipcovers made of cardboard, Wood, sheet metal and plastic |
| Floor layer removal | freely selectable in the control panel |
| Lifting gear drive | position-controlled with toothed belt |
| Schichtenschieber | Position-controlled layer pusher with toothed belt or chain |
| Centering front / lateral | position controlled with rack and pinion or pneumatic |
| Pallet centering | can be integrated into the loading plate |
| Energy saving activities | variable counterweight and energy recovery |
| Vacuum generation | energy-saving |
| Grouping station height | freely selectable after level compensation |
| Light barriers | Sick |
| Drives | SEW |
| Position control | Danfoss |
| Control | Siemens S7 |
| Switch cabinet | Rittal |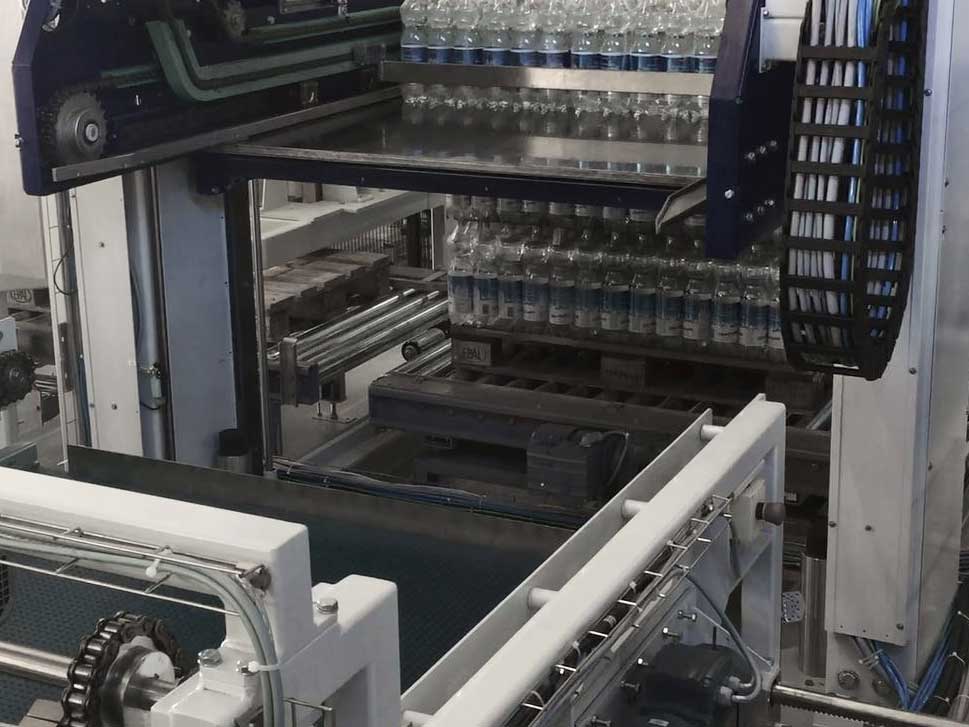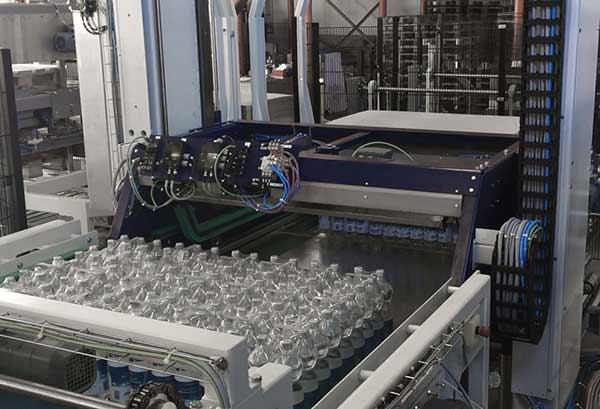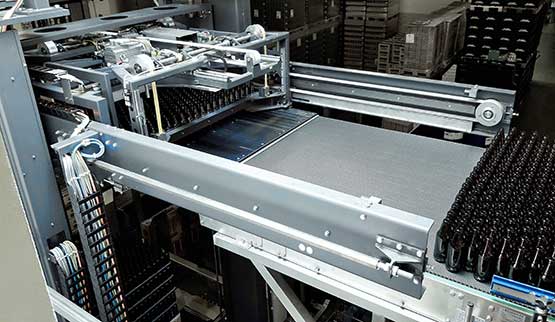 New glass- / Canpusher
With the container pusher (bottle pusher, can pusher) all products, which are palletized on an intermediate layer, can be pushed off and fed into production. The layer pads are lifted off and stacked in a layer pad magazine in the area of the pusher. The bottom layer can also be lifted off the pallet. The pusher has been designed as a universal machine and can process all common pallet formats. The bottle discharge can be arranged at working height or, in the case of high performance machines, also at the top.
The output is approx. 400 layers/h depending on the design and the push-off position.
New glass depositer / -lifter
The Profipal 2800 in its simplest design with a flanged layer pad inserter (layer pad remover) is ideally suited for palletizing or depalletizing new glass. To pick up bottles or glasses, the Profipal is equipped with a tube, bar or suction gripper. The layer pads and slipcovers or slipcover bases are handled with the layer pad inserter (layer pad remover).
The Profipal 2800 can depalletise or palletise bottles in a very confined space. The layer pads are deposited or removed in a layer pad magazine.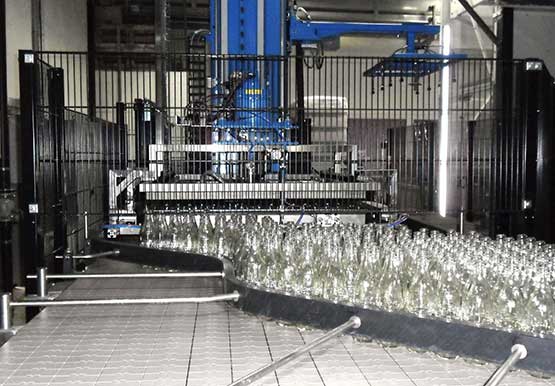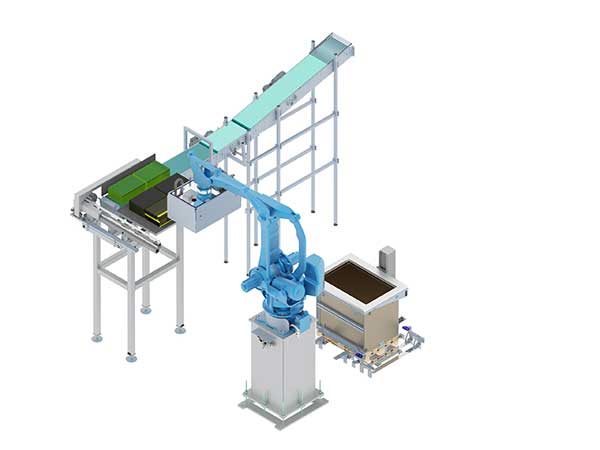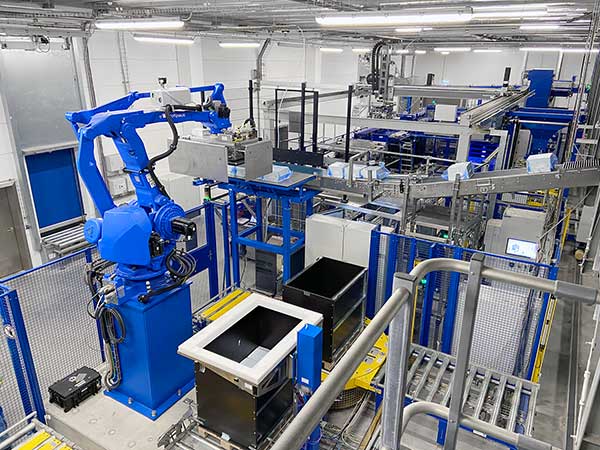 Ripening Crates Palletizer
With this compact palletizing cell, cheese of every different type can be put in ripening boxes or containers for the ripening process. Thanks to the solution using 4-axis articulated robots, system installations can be implemented in very small areas. The gripper head is designed in such way that it can also be mounted even on conventional machines. Of course, we will be happy to advise you on this in order to find the most suitable version for your requirements.
The suction-head, equipped with servo motors, picks up the cheese blocks with a gently adapted suction plate and presses them with stainless steel sheets to the necessary size of the ripening box. Thus, even larger dimensional deviations from the product are compensated and different formats can be processed with one tool. In order to manipulate the cheese particularly gently, the pressing is additionally monitored with torque control. The structure of the gripper is completely in stainless steel and is therefore suitable for use in both grey and white areas. By dispensing with compressed air, the energy requirement was reduced to a minimum. The feeding belts including the grouping station are made with particularly low-friction materials in order to process your product gently.
Technical details:
| | |
| --- | --- |
| Performance | Up to 1200 packages / h |
| Products | All varieties of soft and hard cheese |
| Pallet centering station | Centering frame for product-friendly insertion of the blocks into the ripening container |
| Vacuum generation | Vacuum pump |
| Height of grouping station | arbitrary |
| Light fence | SICK |
| Drives | SEW |
| Positioning | SEW |
| Control Siemens | 1500 |
| Electrical cabinet | Rittal |
If you have any questions, please contact a sales representative.
REQUEST FURTHER INFORMATION