As a full-service partner and system integrator, we offer interesting and extremely innovative solutions in the field of intralogistics. Whether fully automated small parts warehouse, ink warehouse or innovative solutions in the field of pallet conveyor technologies with pallet tracking, Profipack has good soluitions and has already been able to integrate systems with various customers and successfully put them into operation. Thanks to many years of experience in robotics and with various gripper technologies, various end-of-line solutions in the form of palletizing, depalletizing or picking systems have also been implemented at the customer's site.

We are happy to receive inquiries or open discussions on this topic in order to realize your system "Made in Tirol".
End-of-Line Solutions / Palletizing Solutions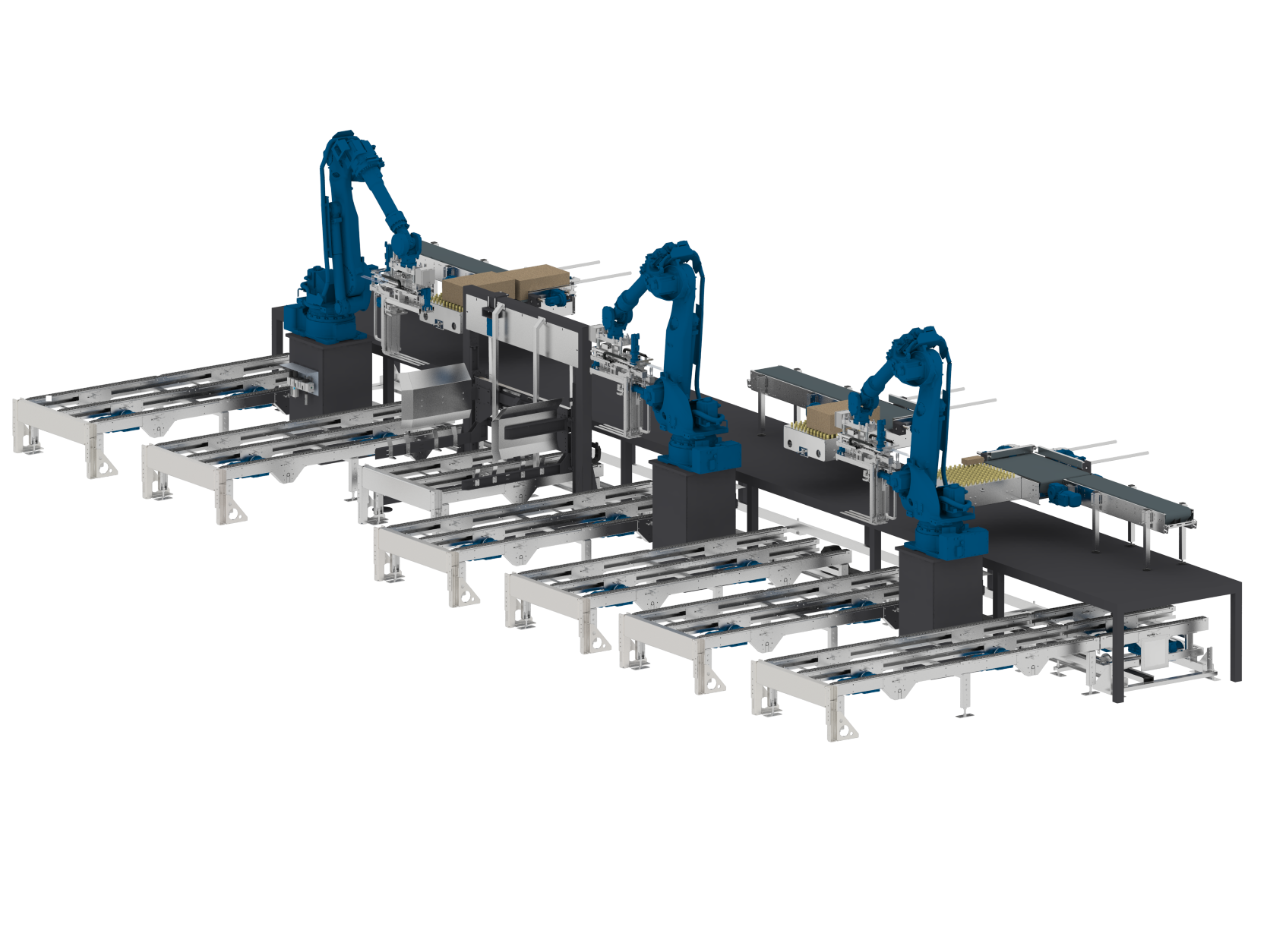 Pallet storage for Euro and industrial pallets (also others possible)
Various gripping systems possible
Pallet conveyors for Euro and industrial pallets (also others possible)
Thanks to many years of industry experience in the beverage and food industry, Profipack has been able to develop various system solutions that are also used in intralogistics. Profipack's expertise in the field of palletizing and depalletizing can offer customers a wide variety of solutions, especially the requirements for space-saving solutions with the most flexible production options.
In the field of gripping systems, the products can be used through various possibilities, such as:
Based on the modular solutions, we can put together your ideal gripping system, perfectly adapted to your product. It is important to us to combine as many functions as possible in a compact gripper in order to make the footprint of the system as small as possible.
At Profipack you benefit from competent contacts and technologies that have been tried and tested over many years. We are happy to advise you and look forward to your contact request!
The multifunction gripping head, which can be installed either on a robot or a gantry system, is suitable for the creation of mixed pallets or for loading container pallets. Due to the particularly narrow design and the particularly flexible mounting and depositing options, there are no limits to this system and a large number of automation solutions in the field of palletizing can be realized.
In combination with a sophisticated packing pattern generator, every conceivable pallet can be set up.
Ask our contact persons to get the best solution for your Products!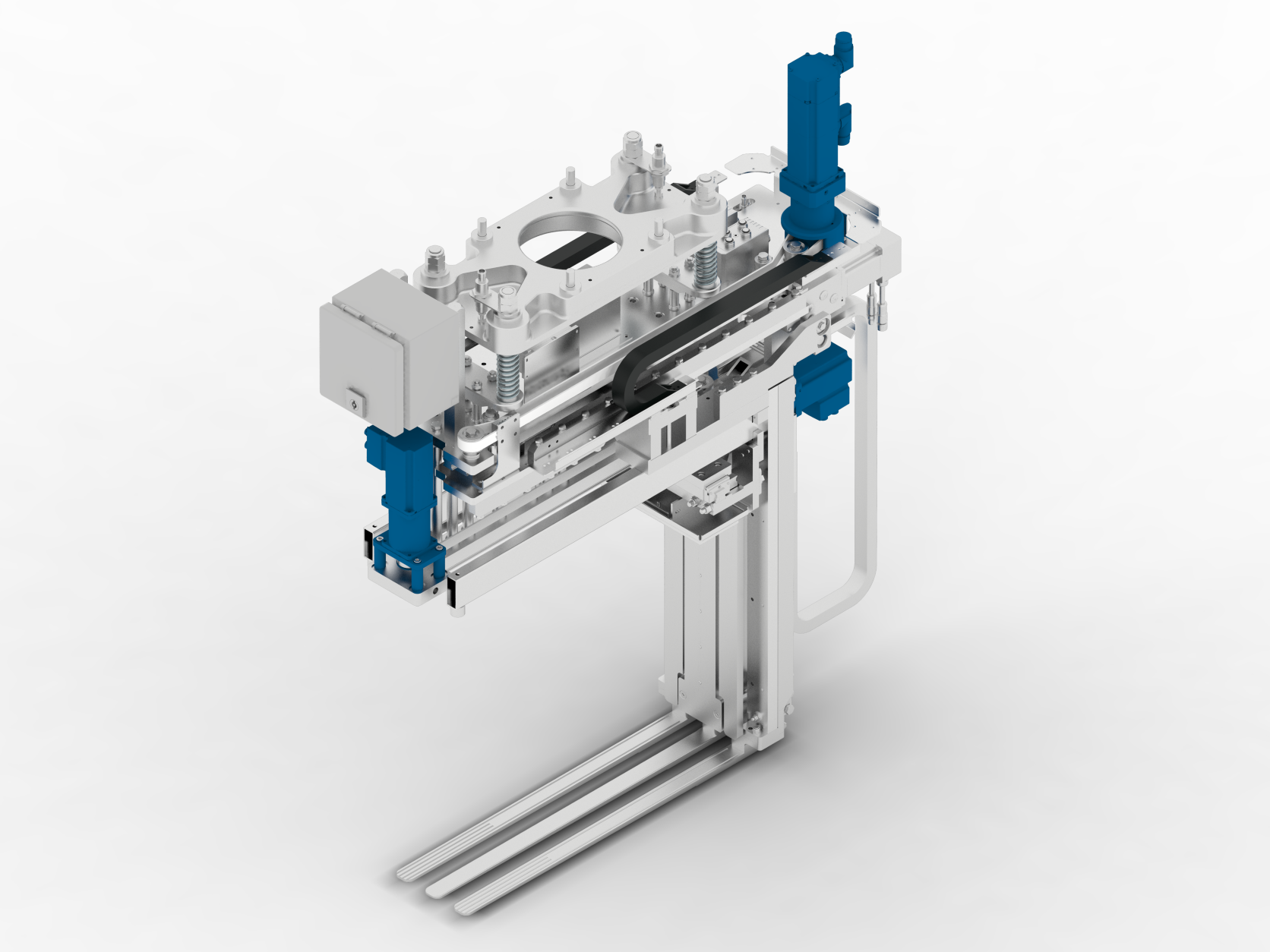 Hold-down plate for lightweight products
Stable forks incl. single adjustment
Depalletizing system Consul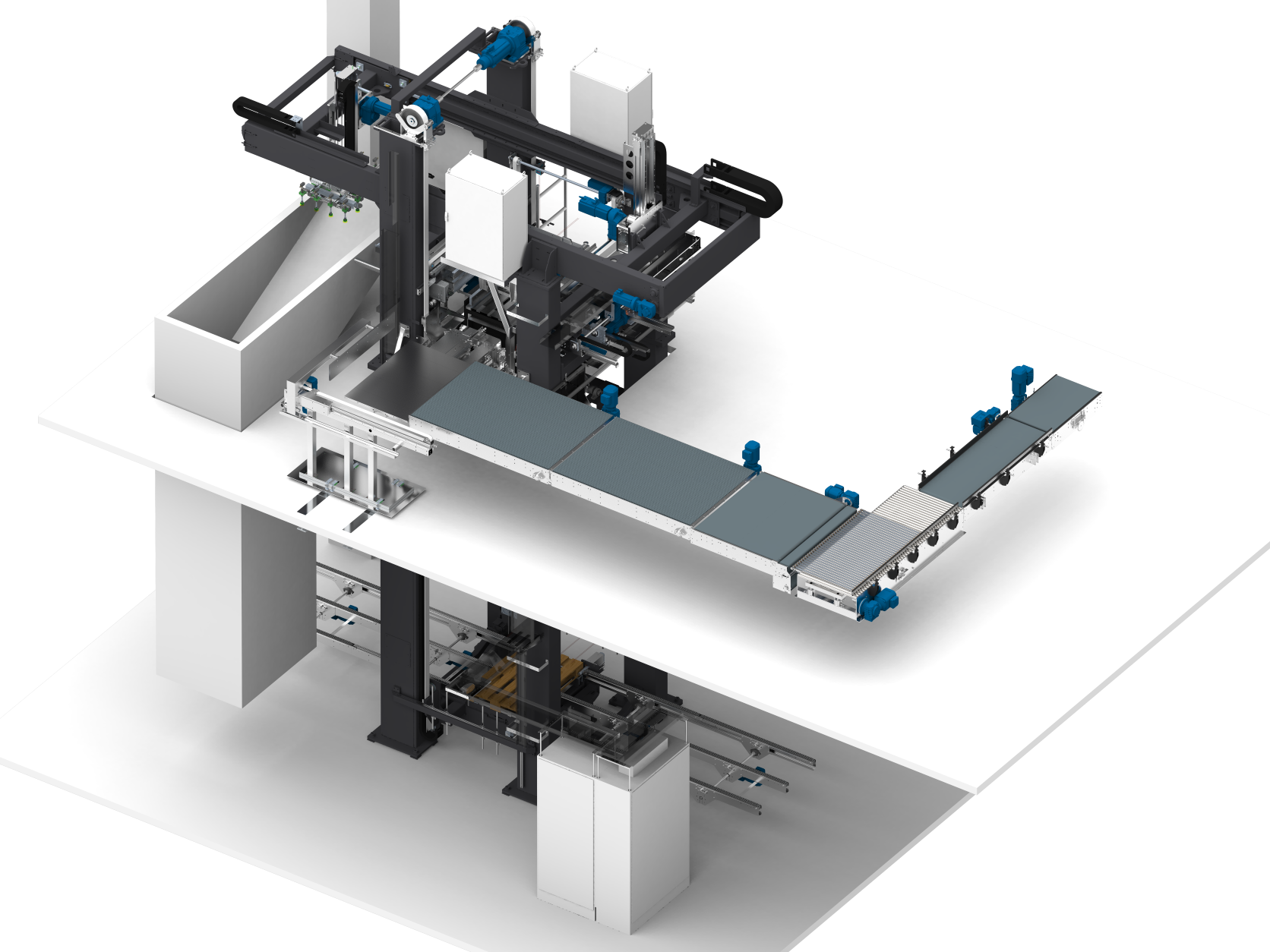 Container separation incl. alignment
The state-of-the-art, patented CONSUL depalletizing system is a novelty in the field of intralogistics. By particularly gentle lifting of the products from the pallet, almost all conceivable products can be lifted off the pallet in layers and can be further processed. The machine, which was developed for large picking and distribution centers, can process almost all products with an average layer capacity of 200 layers / h.
By using this machine, you can reduce the number of personnel and the number of manual hand-packing stations to a minimum and expand and strengthen your supply chain for the coming years.
We are happy to advise you and look forward to your contact request!
Technical details
| | |
| --- | --- |
| Performance | Average 200 layers / h |
| Workable products | Open, closed trays, boxes, cartons, PET containers, ... |
| Palettes | from 1.200x800 mm to 1.200x1.000 mm |
| Pallet conveying direction | arbitrary |
| Slip-sheet processing | Absorbent cardboard interlayers, Wood, sheet metal and plastic |
| Drive | Latest SEW servo technology in axle combination |
| Pallet centering | In machine |
| Energy saving | variable counterweight and energy recovery |
| Vacuum generation | energy-saving |
| Devices | Sick |
| Control | Siemens S7 |
| E-cabinet | Rittal |
| HMI | Intuitive input mask for parameter optimization |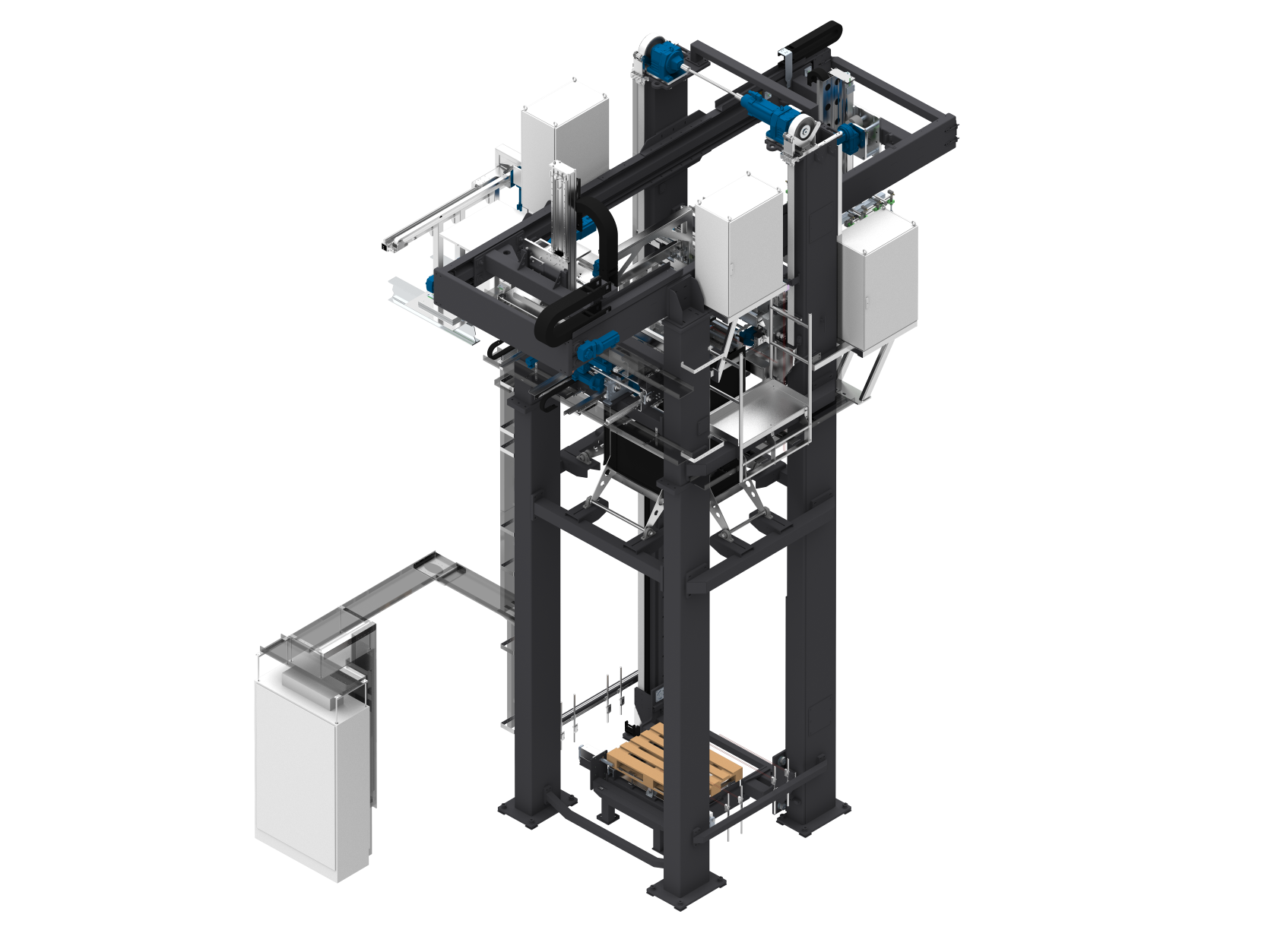 Slip sheet processing with autom. Camera detection
Hold-down system or suction module
System solution Profipack
Something great is being created here! - Be patient!
Storage system – small parts / roundel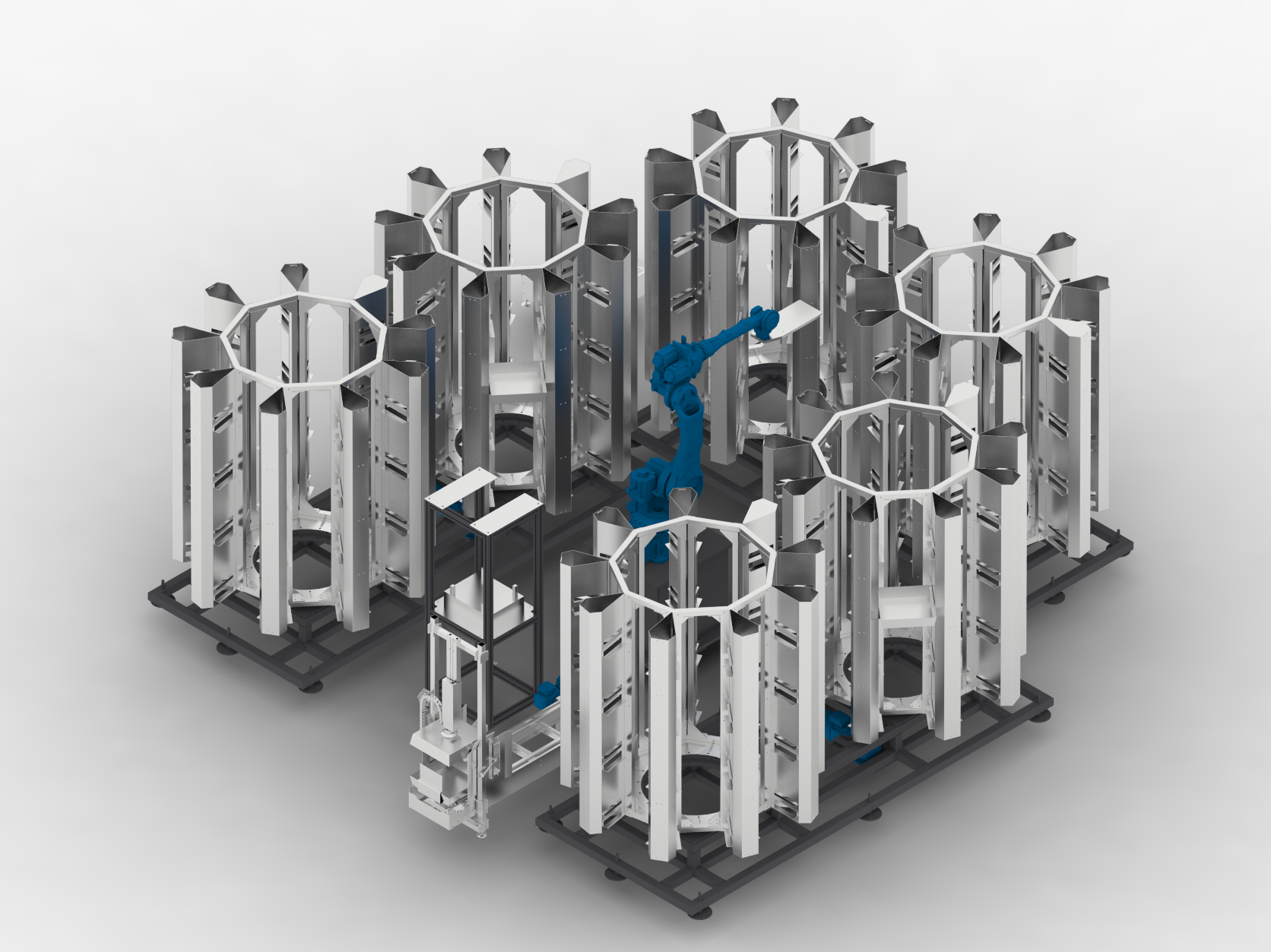 Robot with gripping system
Flexible storage and retrieval options
Profipack also offers sophisticated solutions for small parts warehouses or paint storages in the field of storage technology. The storage system, which consists of motor-driven roundels, can be extended or configured as desired to meet any floor plan. The feeding and retrieval is carried out by a 4-axis robot system.
By using a robot, a wide variety of gripping systems can be used, which means that there are almost no limits for this system in terms of storage and retrieval.
Such a solution can be integrated into fully automated production plants, but also can be implemented as a stand-alone device, where employees with access chips can select and outsource products.
However, there are loads of different applications. We are happy to advise you and look forward to your contact request!
Pallet transport systems
Building pallet conveyor technology is not a difficulty these days. However, intelligently controlling the conveyor technology and programming an interface to the control technology cleanly is time-consuming and requires a high level of expertise. Thanks to experienced programmers from the industry and in-house software development, Profipack is also a competent partner beyond the mechanical part.
The pallet conveyor technology is made entirely of stainless steel. Further information can be found here.
We are happy to advise you and look forward to your contact request!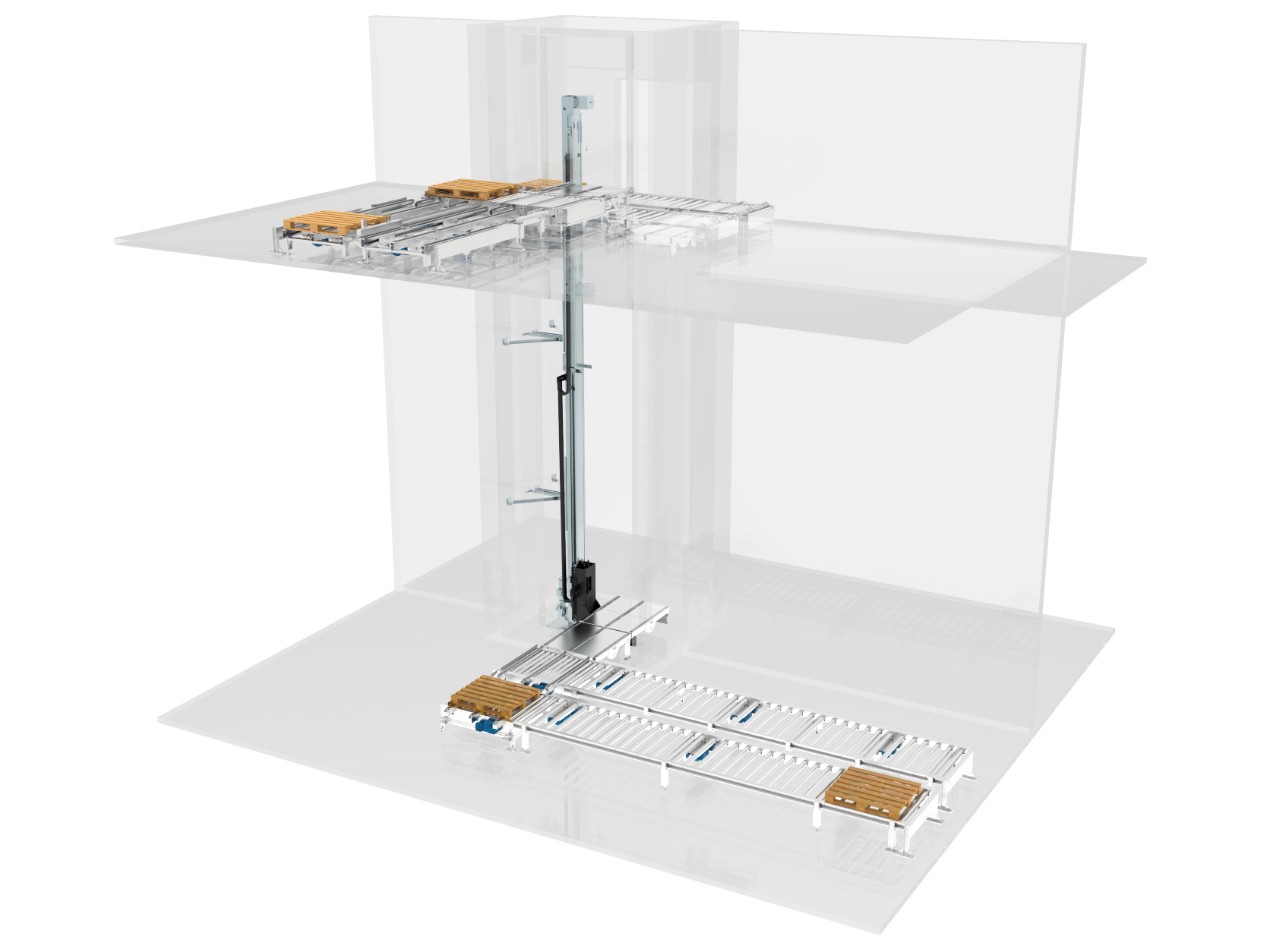 Pallet conveyor technology / buffer lines
WEITERE INFORMATIONEN ANFORDERN